Best Ramadan Buffets in Malaysia You Cannot Miss!
Looking for the best Ramadan buffets in Malaysia? Ramadan is a time of year when Muslims all over the world celebrate. It is more than just a month of fasting and abstaining from bad habits; it is also a time for delicious food!
Therefore today, Min will share the top 7 Best Ramadan Buffets in Malaysia that you cannot miss! Make sure to reserve seats earlier ahead before heading to these Ramadan buffets ya…
Why Do Muslims Fast?
Fasting during Ramadan helps Muslims become more aware of their surroundings. Being constantly hungry or thirsty causes Muslims to consider those who are less fortunate than themselves.
Before sunrise, they will have sahur and after the night falls, a large feast known as 'iftar' is shared with family and friends. And if preparing a large meal throughout the months isn't permissible for you, these Malaysia's Best Ramadan Buffets are a way to go.
Top Best Ramadan Buffets in Malaysia
Hotel buffets are ideal for spending quality time with family and friends over a flavourful feast of your favorite international and Malaysian delicacies. If you're looking for some delightful Ramadan buffets in Malaysia, look no further. Today, Min will list the Top 7 Ramadan Buffets in Malaysia. So, don't miss out on these incredible buffets!
1. Grand Hyatt Kuala Lumpur
Our list of Malaysia's Best Ramadan Buffets starts with JP Teres' buffet 'Nostalgia Rembulan'. These mouth-watering buffets will transport your taste buds back in time to revel in nostalgic '60s elements.
Grilled seafood, satay, a kerabu assortment, rojak buah, grilled lamb, and so on will be available at the buffet. A dessert menu including over 80 different types of sweets will also be available.
2. Four Seasons Hotel Kuala Lumpur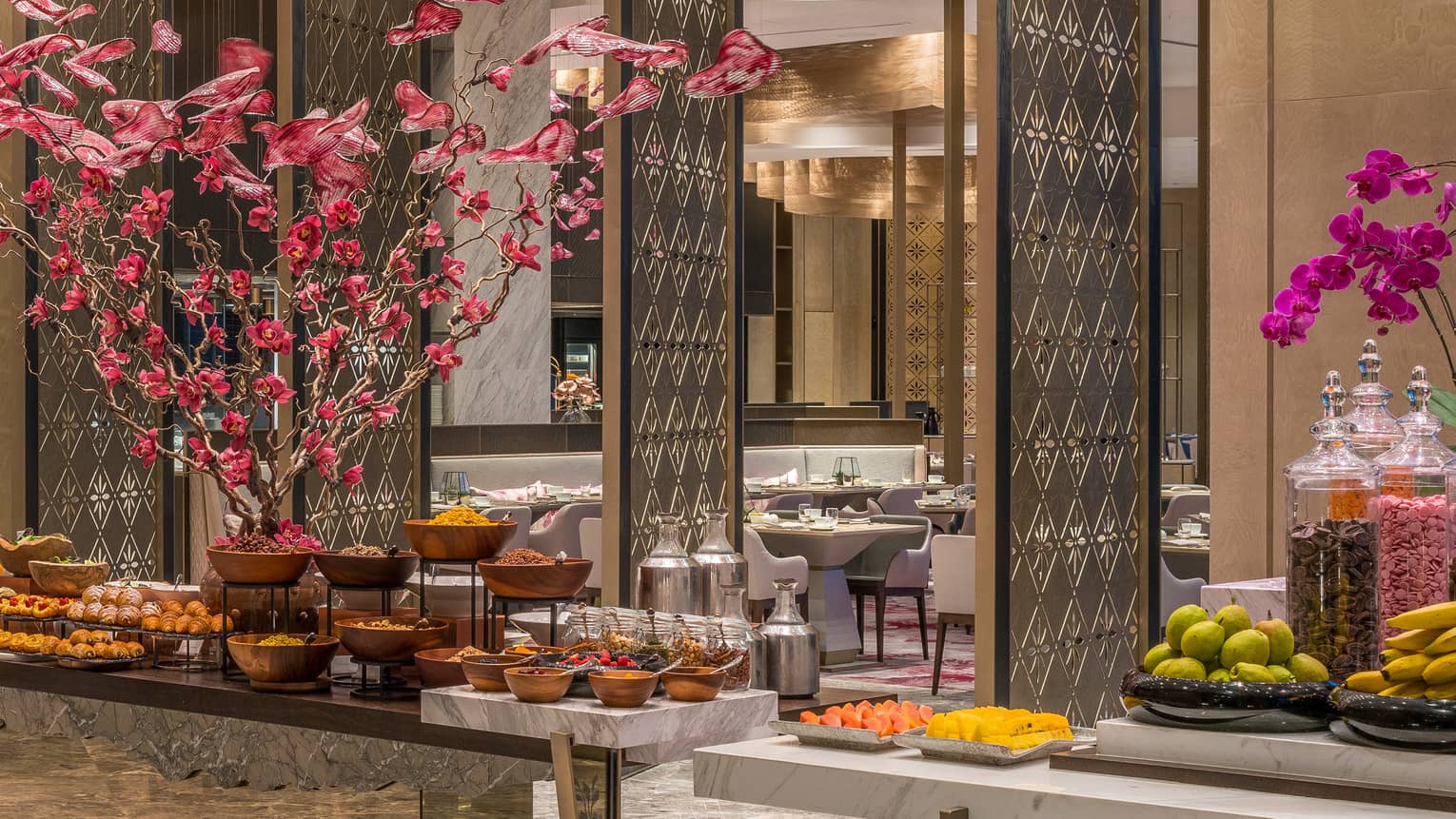 Ramadan Buffets 'Sajian Tradisi Kita' at Four Seasons Hotel KL is a nod to Malaysia culture. Chef Dato' Fazley recreated Malaysian dishes that have vanished through the ages.
Nasi Tumpang Ayam Bakar Pasu, Puyuh Salai & Kulit Rambai, and Urap Daun Kaduk & Telur Masin are some of the sample delights. Each dish is planned using nutritionally balanced cooking methods, so diners don't have to worry about calorie restriction.
3. Ritz Carlton Kuala Lumpur
The chefs at The Cobalt Room will illustrate their cooking skills into an enchanting buffet experience that will take visitors on an haute cuisine trip of Malaysia and Thai dish. Their tastebuds will be treated to flavorful signature dishes such as Phad Ka Phow Gai, Tom Yum Goong, and Phad Tai Goong Sod.
For those with local tastebuds can enjoy well-known dishes from each state, such as Malacca's Asam Pedas Ikan Tenggiri, Pahang's Ikan Patin Masak Tempoyak, and more. There is something for everyone to savor with this Ramadan Buffets of 50 varieties of Malaysia hors d'oeuvres, main courses, and sweets to choose from.
4. Shangri-La Kuala Lumpur
At the Shangri-La Kuala Lumpur, to pique your appetites, there will also be ulam-ulaman and a variety of kerabu such as kerabu kaki ayam dengan jantung pisang, kerabu taugeh dengan ikan masin, kerabu kupang dengan cili hijau, jelatah harian, ketam goreng berempah, paru goreng, and more.
The Ramadan Buffet also includes Indian, Middle Eastern, Mediterranean, and non-pork Chinese cuisine. The Seafood Station, which serves a wide range of fresh and cold seafood, is the most popular among locals.
5. Pearl International Hotel
Throughout the holy month of Ramadhan, this hotel will showcase a wide range of all-time nostalgic Malaysian and Western cuisine top picks. The Kerabu Action Salad Station, Malaysian Pickles, Soups, and Live Hawker Action stalls are among the stations that focus on particular dishes.
The Kambing Golek from this buffet will leave you wanting more. Visitors will also enjoy a wide selection of mouth-watering traditional Berbuka Puasa delights and delicacies before finishing with a colorful display of desserts.
Many traditional Malay dishes, such as Kari Kepala Ikan, Gulai Daging, and Ketam Masak Lemak, are served in clay pots here to keep them hot and tasty.
This restaurant replicates famous dishes from Malaysian Ramadhan bazaars favorites like Ayam Percik, Bubur Lambuk, Roti John, and plenty of sweet pastries and desserts that will make you feel like the festive season is just around the corner. They also have a specialized selection of western delights for those in need of a variety of tastes.
7. Le Meridien Kuala Lumpur
Le Meridien provides Ramadan buffets of individual set meals as well as family sets of classic Malaysia dishes. The buffet includes everything from appetizers to desserts.
To name a few, the main courses at Le Meridien include nasi goreng kampung, ayam percik, and a roasted whole lamb. Ulam Ulaman is a must-try for an even Malay sensation. Desserts like sago gula Melaka and Pearl Sago Timbale will complete the buffet.
With Ramadan 2023 quickly approaching, we will definitely be anticipating the Ramadan buffet these hotels and restaurants will offer this year. With that, Min hopes that today's sharing will help you to start planning your Iftar dinners for the upcoming month. Happy Ramadan, soon!
---
Disclaimer: The web administrator is not responsible for any of the sender's comments or posts in the site's comments section. The sender is solely responsible for any comments or posts made.
For more interesting recipes and articles, head onto MakanLokal.com!
Nak makan apa? Makan lokal-lah!